Your Source for Pompano Beach Gutters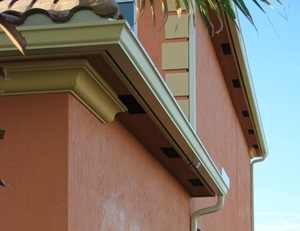 In order to keep your Pompano Beach home safe during rain and storms, it is imperative that you have a properly designed gutter system. Your Pompano Beach gutters perform the critical function of channeling water from the surface of your roof to a safe distance away from your property. If you do not have gutters on your residence, a great deal of damage will occur over time. At Nova Gutter Corporation, our gutter company in Pompano Beach, FL is here to help you with this important responsibility.
For the last ten years, local residents and families have trusted our professionals to design, install, and maintain their gutters in Pompano Beach, FL. Our gutter experts are honored by the trust that the local community has shown in our skills and services. When you hire our Pompano Beach gutter company, we promise to honor that trust by providing you with the highest quality services. In this way, we can guarantee your complete satisfaction with the results.
If you need to install new gutters on your Pompano Beach home, call Nova Gutter Corporation today. Our polite staff would be happy to answer any questions that you may have about your needs or our expertly performed services. We can schedule your appointment today.
Pompano Beach Gutters Protect Every Portion of Your Property
Although we do not often think about how important gutters are, the fact of the matter is that they are critical to keeping your residence safe during even the lightest rain. Every drop of water that hits the surface of your roof collects at the edges of your property. Without a well designed gutter system, this water will crash off the roof of your home, onto the siding of your property, and over your landscaping and hardscaping. In the process, your siding, windows, doors, and landscaping can be damaged. Worst of all, as water pools at the base of yoru home, your foundation becomes threatened. If your gutters are looking shabby, or if your property doesn't have gutters installed at all, please give us a call. We'll be happy to provide you a free estimate for gutter installation in Pompano Beach, FL.
Custom Designed and Installed Gutters in Pompano Beach
When you hire our gutter company to install new gutters in Pompano Beach, FL, you are making the best possible choice for the job. Our experts will personally inspect your property in order to help you install a customized gutter system specifically for your unique needs. Afterwards, your residence will have the highest level of protection during inclement weather. Your new gutter system will effectively and safely channel water from the surface of your roof to the ground around your property.
After we install your Pompano Beach gutters, our contractors will always be available for your cleaning and maintenance needs. You will always know that you can trust our team to provide you with the highest quality gutter related services.
If you are looking for gutters in Pompano Beach, FL, then please call 954-380-8242 or complete our online request form.