Your Source for Parkland Gutters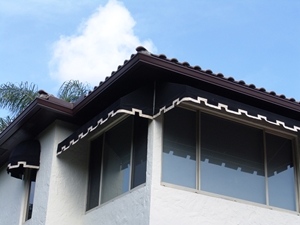 As a Parkland homeowner, you have an obligation to ensure that your property is properly maintained at all times. One of the most difficult things for a homeowner to take care of on his or her own is gutter maintenance. Your gutters serve a highly important function of protecting your property during storms. If you do not have properly functioning gutters in Parkland, FL, the results can be disastrous. At Nova Gutter Corporation, our Parkland gutter company is here to help you with this important responsibility.
For the last ten years, our Parkland gutter installation contractors have proudly been serving the local community. We are honored by the fact that so many local residents have trusted us with all their gutter related needs. When you hire our professionals for gutters in Parkland, FL, we promise to honor the trust that you show in us by working our hardest to provide you with the highest quality services possible. In this way we can ensure your complete satisfaction.
Call Nova Gutter Corporation today if you need to conduct any work on the gutters on your Parkland property. Our courteous and polite staff is here to help you in any way that we can when it comes to Parkland gutters. Our experts can answer any questions that you may have about your home. We can schedule your appointment today.
How Gutters Protect Your Parkland Home
Whenever it rains in the Parkland area, an immense amount of water is collected on your roof. If you do not have gutters on your property, this water will flow off the surface of your roof in an uncontrolled manner. The cascading water will damage soffit, fascia, siding, doors, and windows. Likewise, it can erode landscaping and harm driveways and walkways. Worst of all, if water begins to pool around your home, it can cause damage to the foundation of your property.
A properly designed gutter system resolves all of these problems. By channeling water from the surface of your roof through down spouts, the rain is transferred safety from your roof to the ground. At Nova Gutter Corporation, our Parkland gutters experts can design and install a system that will best protect your property. Call today to learn more about our services for gutter installation in Parkland, FL.
Gutter Cleaning Services in Parkland
Even if you have a well-designed gutter system, if your gutters are clogged by debris and leaves, your Parkland property may be threatened. Clogged gutters can be even more problematic that not having gutters at all. At Nova Gutter Corporation, our gutter company can resolve this issue for you. We are highly adept at routine gutter cleaning in Parkland, FL.
If you are looking for gutters in Parkland, FL, then please call 954-380-8242 or complete our online request form.