Fort Lauderdale Gutters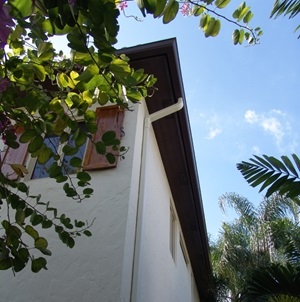 At Nova Gutter Corporation, our Fort Lauderdale gutter company has been proudly providing high quality services to the local community for the last ten years. We understand how important your gutters are to keeping you property protected during rain and storms. With our help, you can feel confident knowing that your gutter system is always performing at its absolute best.
Call Nova Gutter Corporation today if you need to hire a professional for gutter installation in Fort Lauderdale, FL. Our highly skilled experts can custom design a new gutter system for you. We also work with soffit, fascia, and siding. With our assistance, all of these critical components of your residence will perform their function in the best possible manner. Our gutter company would be happy to schedule your appointment today.
Fort Lauderdale Gutters Protect Your Home
When it is raining, it may not seem like the water coming down presents any threat to your property. This misconception could not be more off the mark. Because your roof has a large surface area, all of the water that hits your roof is channeled and collected. The resulting stream, if uncontrolled, can cause substantial damage to every portion of your property.
At Nova Gutter Corporation, our gutter installation contractors can help ensure that this collected water is effectively and safely channeled from the surface of your roof with properly installed Fort Lauderdale gutters. With a properly installed and maintained gutter system, you will not have to worry about cascading water damaging your soffit, fascia, siding, doors, windows, landscaping, driveway, and foundation.
Gutter Cleaning in Fort Lauderdale
In addition to designing and installing gutter systems for our customers, our Fort Lauderdale contractors can also help you keep your gutters properly maintained. It is highly important to clean your gutters on a regular basis. If your gutters become clogged with leafs and debris, you gutters will fail to perform their protective function. Water can pool in your gutter causing damage to the system and your roof. Even worse, water can fall over the sides of the gutters and cause all of the same problems as not having gutters on your property.
By hiring our Fort Lauderdale gutter cleaning contractors, you can rest assured knowing that this critical system will always protect your home in the best possible manner. Even better, you will never have to climb a ladder to scoop damp leaves and debris from your gutters again. Our professionals can handle this frustratingly messy and dangerous chore for you.
See What Customers in Fort Lauderdale, FL are Saying About Us
Nova Gutter Corporation is Rated: 5 / 5
based on this 1 happy customer reviews.
---
"In my 5 years in Florida, this company was the ONLY one that was 1-on time for the 1st appointment 2- job done as promised 3- job done as schedule. Thank you."
---
If you are looking for gutters in Fort Lauderdale, FL, then please call 954-380-8242 or complete our online request form.