Lantana's Leader in Gutter Services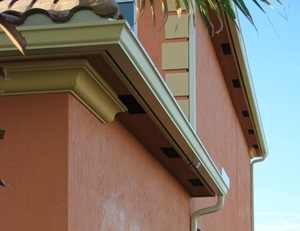 When the time comes to look for a Lantana gutter company, do you know how to choose one? How do you pick one service provider over another?
You need an established and reliable expert to work with so you can be certain you're getting true quality for your results. That means you should never settle for less than the best from your Lantana gutter company.
We believe in going above and beyond when it comes to taking care of our clients; your gutters matter as much to us as they do to you. Take good care of your gutter system so it can take good care of the rest of your house.
What Makes Seamless Gutters the Better Choice
You have two types of gutters to choose from: sectional and seamless gutters. Many customers call us for Lantana gutter company services to get help deciding which kind they should have.
If you're curious about the benefits of going seamless, here are some things you should know about.
Most gutter leaks occur at the seams. That means if you do away with the seams you do away with the leaks. That also means less places for damage like rust to form so that you can expect a longer lifespan and better performance from your gutters.
You can't get any more custom fit than seamless gutters. Since they are literally made to measure and will fit your home perfectly. This also means you need expert installation because this is not the type of precise work you can DIY.
They just look better and make your home's exterior look better. The choices you make for your house should improve the overall visual aesthetics.
For all of your Lantana gutter company service needs, get in touch with us. We look forward to working with you and getting you the service and results you deserve.
If you are looking for gutters in Lantana, FL, then please call 954-380-8242 or complete our online request form.