COLLIER COUNTY GUTTERS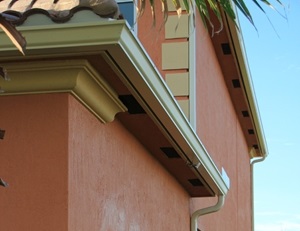 Choosing a reputable gutter company in Collier County is important to ensure that your gutters are installed properly and effectively. Look for a company that has a good reputation in the community and has been in business for several years. Check online reviews and ratings to see what previous customers have to say about their experience with the company.
Make sure the company is licensed and insured and offers a warranty on their work. Ask for references and photos of previous gutter installations to get a sense of the quality of their work. Finally, get multiple quotes to compare prices and services. In other words, contact Nova Gutter Corporation for the most professional gutter company service in Collier County.
Collier County's Finest Resource For Residential Gutter Installation
Professional residential gutter installation in Collier County offers many perks for homeowners. Firstly, professional installers have the knowledge and expertise to ensure that your gutters are installed correctly and effectively. This can help prevent leaks and other issues that can arise from improper installation. Additionally, professional installation can save you time and hassle, as the installers will handle all the details of the installation process.
Another perk of professional installation is that installers will be able to recommend the best type and size of gutters for your home's specific needs. They can also advise you on the best placement for your gutters to ensure maximum effectiveness in directing water away from your home.
Finally, professional installation often comes with a warranty or guarantee on the work, giving you peace of mind knowing that any issues that arise will be taken care of. In short, professional residential gutter installation is a smart investment that can save you time and money in the long run.
Seamless Gutters Make A Difference For Collier County Homes
Seamless gutters can add value to your home by providing both functionality and aesthetic appeal. They offer a clean, streamlined look that can enhance the overall appearance of your home.
Additionally, they can help prevent water damage to your home, which can save you money on costly repairs in the long run. This combination of style and functionality can make your Collier County home more attractive to potential buyers and increase its overall value.
If you are looking for gutters in Collier County, FL, then please call 954-380-8242 or complete our online request form.