Unbeatable Gutter Services in Coconut Creek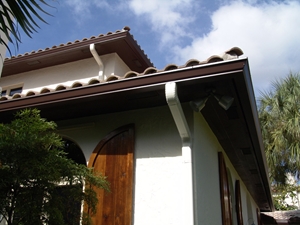 Are you in the market to upgrade your Coconut Creek home's current gutter system? If you are, then you need to look to the area's dependable gutter company, Nova Gutter. We offer some top-quality products that will help you enjoy all the protective qualities that you should expect from this installation.
Two of the great products our Coconut Creek team offers are gutter protection and seamless gutters. Both products provide protection from gutter clogs that can lead to serious water damage, making them great installations for your home.
Gutter Protection That Will Keep Your Home Standing Strong
Your home is a valuable investment -- in fact, it's likely to be the most important investment you'll ever make. So, you need to do what you can to keep it standing strong through the years. This effort should involve preventing gutter clogs that could lead to a host of problems for your home:
Water damage to its roof
Cracks in its foundation
TMold growth
To prevent these problems from afflicting your home, you need to prevent your gutters from overflowing. To do that, you need to keep them from getting clogged, and with gutter protection, gutter clogs will become a thing of the past.
Get Beautiful Seamless Gutters for Your Coconut Creek Home
When it comes to form and function, few installations can match what seamless gutters can offer. Containing far fewer joints than many other gutter options do, seamless gutters greatly reduce the likelihood that a clog will occur, making them a great investment for the good of your home.
On top of that practical quality, seamless gutters also offer a beautiful, clean look for your Coconut Creek home. This look will help to bolster your home's curb appeal, so this gutter installation will prove to be a great investment for your home.
If you are looking for gutter installation or maintenance for your Coconut Creek home, call 954-380-8242 or complete our online request form.