Your Local Gutter Company in Boynton Beach, FL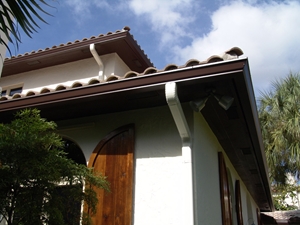 When it's time for service from a Boynton Beach gutter company, will you know who to contact? Ask around and the name you'll hear, time and time again, is Nova Gutter.
We focus on ensuring each of our customers is completely satisfied with the results, it's how we've earned the reputation we have. We don't just want to meet your expectations, our goal is to exceed them.
Don't settle for anything less than the best, when it comes to the level of service you get from a Boynton Beach gutter company. Reach out to us today and let's schedule your consultation.
Seamless Gutters, Flawless Home
If you don't already have seamless gutters, now is the time to start thinking about them. This also means finding the right Boynton Beach gutter company to team up with.
What makes seamless gutters worth having?
Seamless gutters come in a variety of materials and colors. So you can find a look that pairs well with the architectural style of your home. The good news is that because these gutters come with a baked on enamel finish, they'll never need new paint.
By adding these gutters to your home, you're increasing the property value. This makes seamless gutters a wise investment and not a frivolous expense.
These gutters require less maintenance. That saves you time and money. Not to mention, no more wasting your Saturday afternoon, risking your well-being by climbing a ladder to scoop leaves out of your gutters.
All seamless gutters are custom made so you know they will perfectly fit your home. They're made to measure and will be made to fit your house.
It's important to make sure that you only work with a reputable industry expert to take care of your gutter work. This is especially true when it comes to seamless options that are made to fit your individual home.
Once you decide to hire a Boynton Beach gutter company for seamless gutters, give our team of experts a call.
If you are looking for gutters in Boynton Beach, FL, then please call 954-380-8242 or complete our online request form.