Residential Seamless Gutters vs. Seamed Gutters For Fort Lauderdale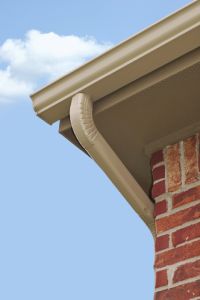 If you've been wondering what all the fuss is over Fort Lauderdale seamless gutters, here is some information from the Boca Raton Gutter experts at Nova Gutter Corporation who love to help residents learn all they can to make the best decisions for the homes.
Since the gutter system is very important in water shedding for your Fort Lauderdale home, you may be wondering why residential seamless gutters are better than seamed. Seamed gutter systems are great for shedding water away from your home foundation when it rains, but there are some problems with them that the seamless systems don't present.
For gutter contractors, the seamless gutter is preferred because they are custom fit to the length required and are easier to install because there's only once piece, not a bunch of connections and parts to put together to make up the length of gutter needed. Installing residential seamless gutters in turn makes the labor for installation not as expensive for the Fort Lauderdale homeowner.
Another benefit you'll see as a residential property owner is that seamed gutters will not remove debris as effectively. The gutter seam areas are sticky places for leaves, acorns, and more to get caught on as the rainwater washes them down the line. Whereas seamless gutters have no seams for things to get caught on. This means a hard or large mass of debris won't get stuck near as easily. Clogged gutters don't do any good because the rainwater backs up behind the debris and overflows to the ground near the foundation where it can pool.
Seamless gutters won't leak at the seams either. Although initially the seamed gutters are installed tightly, over time they will move or shift due to vibrations in the earth, high winds, heat and cold, and other things like impacts. This works to loosen up the connections which in turn creates leaks.
Seamless gutters give you a much more stable Fort Lauderdale gutter system for rainwater routing. They don't have the problems that seamed gutters do with sections coming loose and hanging or falling down. How many times have you had that happen or seen sections of gutters hanging off a house? It happens all the time. Seamless gutters don't fall apart like seamed gutters will.
Don't Forget The Seamless Gutter Guards
Seamless gutter guards add the final element you'll want for your Fort Lauderdale home. There are some impressive gutter guards today that only allow rainwater into the gutter system. With gutter guards for your seamless gutters, you'll not have to worry about debris removal.
Fort Lauderdale has plenty of rain and storms that cause leaves, dead twigs and branches, acorns, and more to drop into the gutter systems. Protecting your home with seamless gutters that have gutter guards is the wisest choice you can make to keep rainwater away from the foundation.
If you would like more information about Fort Lauderdale Seamless Gutters, please call 954-380-8242 or feel free to complete our online request form.