Why You Should Consider Replacing Your Gutters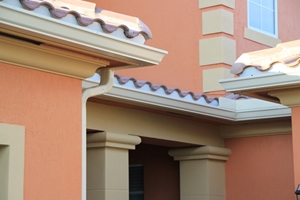 Your gutters play a major role in preventing moisture damage to your home, so keeping them in great shape is one of the biggest priorities you have. Unfortunately, there will come a time when you won't be able to repair the damage to your gutters, or when it's more economical to have the system replaced rather than repair it. Although it may seem more expensive to replace your existing gutter system, in the long run, it can be much more beneficial to your home.
At Nova Gutter Corporation, our Boca Raton gutter contractors can provide you with any gutters repairs, maintenance services, or gutter replacements that you need. We can also help you decide whether you need to have your gutters replaced, and we can help you select the perfect gutters for your home.
If your gutters start to show the following signs, it's probably time to have them replaced and have new gutters installed:
Rust
If your gutters have developed any rust, it's a sure sign that you need to replace them as soon as possible. If your gutters are made of galvanized steel or any other similar metals, then they will likely develop problems with rust at some point. The rust will lead to significant corrosion of the metals, weakening the materials that make up your gutters and opening them up to much more damage. If you don't address rust problems early on, they'll lead to leaks in your gutters, which can cause a lot damage to many parts of your Boca Raton home.
Holes in the Gutters
Gutters might develop small holes, which will mean that they need to be at least partially replaced as soon as possible. Holes on a gutter cause the water to flow via the walls and could weaken them especially if they are made of wood materials. Repairing or replacing wood panels on your home is very expensive and a bit complex, so you need a new gutter installed. While patching can be used in some situations, if there are more than a few holes, a gutter replacement will be more beneficial.
Leaking
Water leakage through your gutters can cause significant damage to your Boca Raton home. If leaks aren't repaired in a timely fashion, it could cause serious damage to your home's foundation, or it may lead to floods in your landscape or basement. Water can also infiltrate windows and rot the wood materials in them.
If your gutters have developed any leaks, your best move is to have the gutter system replaced. New gutters will protect your home and save you a tremendous amount of money in repairs.
If you are looking for an expert for gutter replacement in Boca Raton, then please call 954-380-8242 or complete our online request form.