What Homeowners Should Know About Gutter Installation in Boca Raton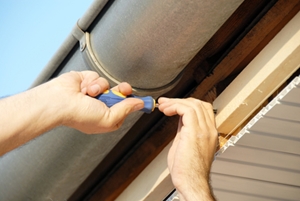 Your Boca Raton residence is a highly valuable investment. At the same time and more importantly, it is the place where you and your family form and share some of your most joyous memories. In order to ensure that you home provides your family with the comfort and security that you expect and deserve, it is important to keep your property protected. During rain and storms, the gutters of your residence provide this critical protection to every portion of your property's exterior. This is why it is important to have proper gutter installation in Boca Raton, FL.
For these reasons, Boca Raton residents should always make certain that they have a well-designed and installed gutter system on their properties at all times. If you need to install gutters on your home, the first thing that you should do is consult with a professional gutter contractor. The best Boca Raton gutter company is Nova Gutter Corporation. Their experts can assist you with gutter installation and all your gutter related service needs.
Why Proper Gutter Installation in Boca Raton is Important
Despite the fact that you might not give much thought to your gutter system, it performs an extremely important function. With gutters on your property, every portion of your residence becomes susceptible damage during even the lightest precipitation.
As water hits the surface of your roof, it flows down to the edges of your property. Without a gutter system, this water will cascade of the side of your roof. It will then hit your siding, windows, doors, and landscaping. Over time, this downpour can cause an immense amount of damage. The issue can become so severe that pools of water around the base of your home can damage your foundation.
Gutters Must Have a Proper Pitch & Design to Function Properly
Installing gutters on your home is a complex and difficult job. Each roofing system is different; therefore, each gutter system must be specifically designed for the needs of the property. In all instances, it is imperative that your gutter system have the appropriate pitch in order to function in the most effective fashion. As a general rule, for every ten feet, the gutter must incline by half an inch to effectively channel water to the downspout.
At Nova Gutter Corporation, our Boca Raton gutter installation contractors have the knowledge, skill, and experience necessary to help you design the most customized gutter system for your property. With the assistance of our experts, you can feel confident knowing that your new gutter system will provide your residence with the best possible protection. Your property will benefit from our services for the long-term.
If you are looking for an expert for gutter installation in Boca Raton, then please call 954-380-8242 or complete our online request form.